---
Australian Active Service Medal 1945-1975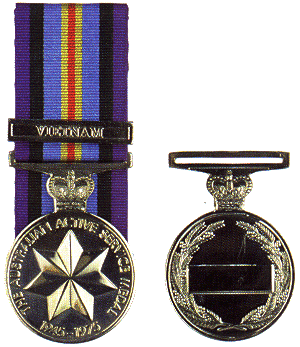 Approval
The Minister for Defence Industry Science and Personnel recently announced the creation of the Australian Active Service Medal 1945-1975 (AASM 1945-75) to recognise warlike service between 3 September 1945 and 14 February 1975. The award was approved by the Queen on 11 December 1997.
The Medal
The Australian Active Service Medal is a circular silver-nickel medal 32mm in diameter, ensigned with the Crown of Saint Edward. The obverse bears a Federation Star surrounded by the words 'Australian Active Service Medal 1945-1975'. The reverse bears a horizontal panel 25mm across and 8mm deep surrounded by two sprays of wattle leaves and blossom.
Ribbon
The ribbon is 32mm wide, having a central red stripe of 2mm, representing the dangers of war, flanked by two yellow stripes of 2mm (the Vietnam Medals), in turn flanked by 4mm stripes of blue (Korea and Vietnam Medals), two green stripes of 4mm (General Service Medal) and two purple stripes of 4mm (General Service Medal).
Medal Miniature
The miniature of the AASM 1945-75 will be a half-size replica of the medal suspended from a miniature ribbon 16mm wide
Clasps
Each Medal presented will have a nickel-silver clasp 37mm wide and 6mm high attached to the ribbon, bearing the name of the theatre where the recipient served. The clasps will be KOREA, MALAYA, MALAYSIA and VIETNAM.
Further Awards
A further award or awards for subsequent service in another area or areas will be recognised by the presentation of an additional clasp or clasps. The clasp or clasps will be attached to the ribbon of the Medal above the original clasp. Clasp sets will consist of an attachment for both the full-size and miniature medals.
Order of Precedence
The Medal will be worn in accordance with the Australian Order of Precedence of Honours and Awards as approved from time to time by The Sovereign. For information, Government House has advised that the medal will be worn immediately after World War II medals, but before any of the following medals:
Korea Medal;
Navy General Service Medal 1915-62 with clasp MALAYA;
General Service Medal 1918-62 with clasp MALAYA;
General Service Medal 1962 with clasps MALAYA PENINSULAR, BORNEO or VIETNAM;
Vietnam Medal;
Vietnam Logistic and Support Medal;
Source:
Office of the Minister of Defence, Industry, Science and Personnel, 31 October 1997.
Mr Pat Clark, Department of Defence, Directorate of Honours and Awards and Personnel Policy, 9 February 1998.
Images adapted from that kindly supplied by Director of Honours and Awards, Department of Defence, April 1999
---