---
Vietnam Logistic and Support Medal (VLSM)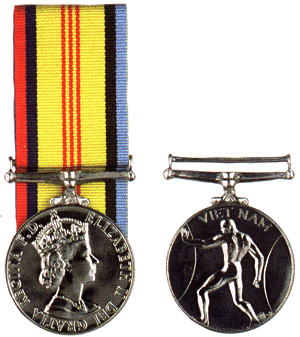 Eligibility
The Vietnam Logistic and Support Medal was established on 24 February 1993, in order to extend recognition to persons who rendered service in support of the Australian Armed Forces in operations in Vietnam between 29 May 1964 to 27 January 1973, but who did not qualify for the Vietnam Medal. It is also ranked with war medals.
The Committee of Inquiry into Defence and Defence-related Awards (CIDA) extended eligibility of the medal to civilian surgical and medical teams and other civilian groups who served in Vietnam under Government jurisdiction.
Persons who have been awarded or are eligible to be awarded the Vietnam Medal are not eligible for the award of the Vietnam Logistic and Support Medal. The medal may be awarded posthumously.
The medal is awarded for one day or more of service in the declared area of operations of Vietnam during the relevant period to persons who were:
a member of the crew of a ship or aircraft operating in support of the Australian Armed Forces;
attached to a unit or organisation operating in support of the Australian Armed Forces; or
attached to, or serving with, a unit of the Australian Armed Forces or allied forces as an observer.
Description
The Vietnam Logistic and Support Medal is a nickel-plated circular nickel-silver medal of the same design as the Vietnam Medal. The suspender is of a different, plainer design than that of the Vietnam Medal.
The obverse shows the crowned head of Queen Elizabeth II, with titles, while the reverse has a the inscription VIETNAM above a symbolic representation of the ideological war in Vietnam. A male figure stands between two spherical shapes. Adjacent to the right heel of the man on the reverse of the Medal is a cartouche of a ram's head, the mint mark of the Royal Australian Mint.
The ribbon has a vertical central section of bright yellow which has centrally superimposed on it three thin stripes of red, (representing the South Vietnamese flag) flanked on the left by a dark blue stripe representing the Navy and on the right, a brown stripe representing the colour of inland and coastal waterways of Vietnam. These two stripes are flanked in turn on the left by a red stripe for the Army, and a light blue stripe for the Air Force.
References
Report of the Committee of Inquiry into Defence and Defence Related Awards
A Matter of Honour - The Report of the Review of Australian Honours and Awards
Additional research by Barry Saxby OAM and Clive Mitchell-Taylor JP
Image adapted from that provided by Director of Honours and Awards, Department of Defence, April 1999
---